Take a peek into the class!
Start here!

This Class is For You If...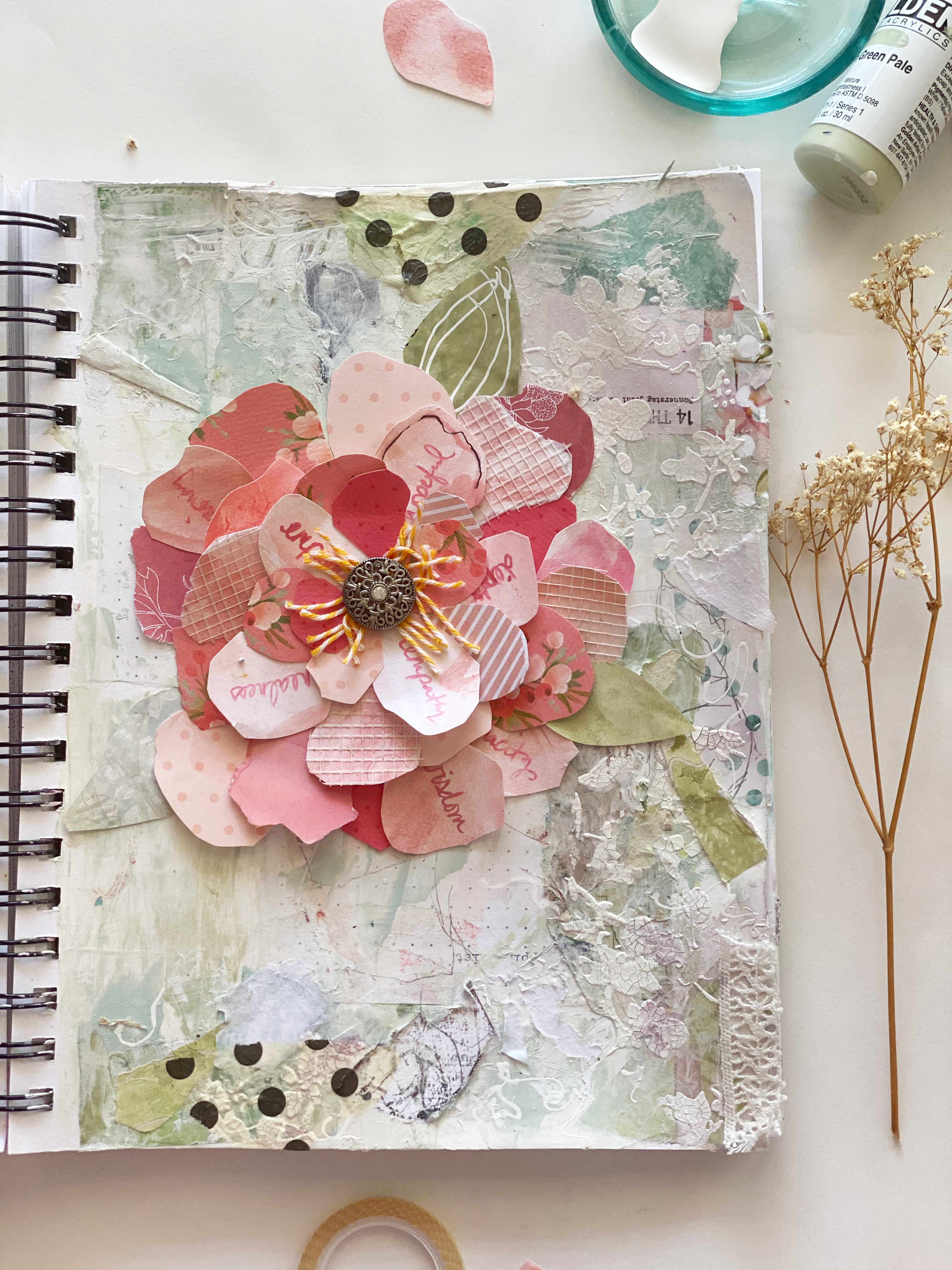 You're curious about
personal exploration through the lens of artmaking.
We'll start class with a beautiful workbook that helps us look deeply into the concept of being enough.
We'll cover concepts like:
Not Enough. A Powerful Story
Remembering Your Strengths and Resiliencies
Tune Out Triggers. Tune Into Your Inner Voice
The "Best Friend Experiment"
"What's True About You" Word Bank
What Do You Need Right Now?
.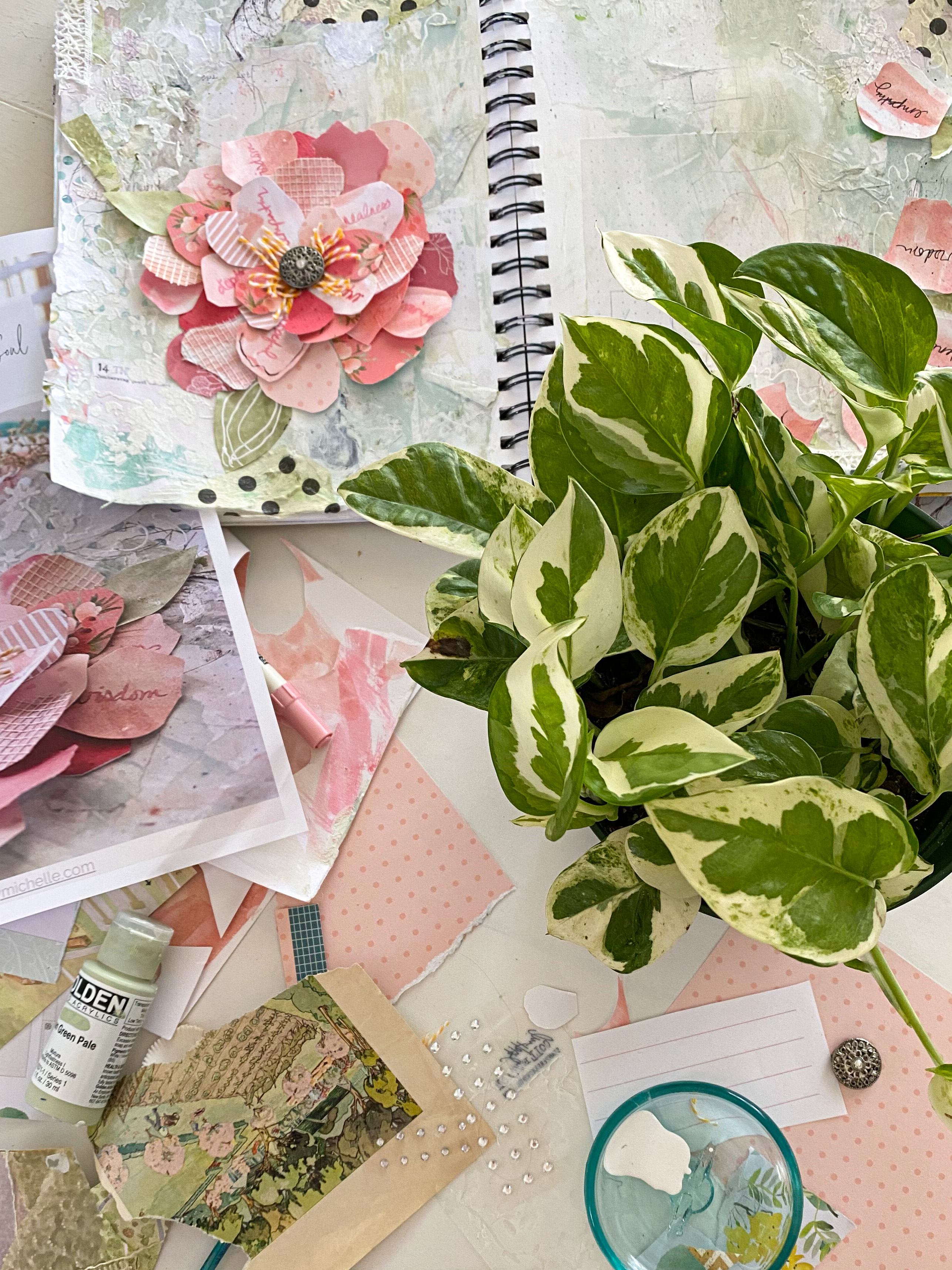 You want to feel a sense of freedom while making art and in life.
Our workbook will be a perfect jumping off point into this beautiful project.
Here we will bring our thoughts/feelings/discoveries of being "Enough" into our art journal.
You will guided with step-by-step instruction on to create the project while giving you lots of tips on how to make it your own.
This class is introspective and thoughtful, while also being fun and inspiring!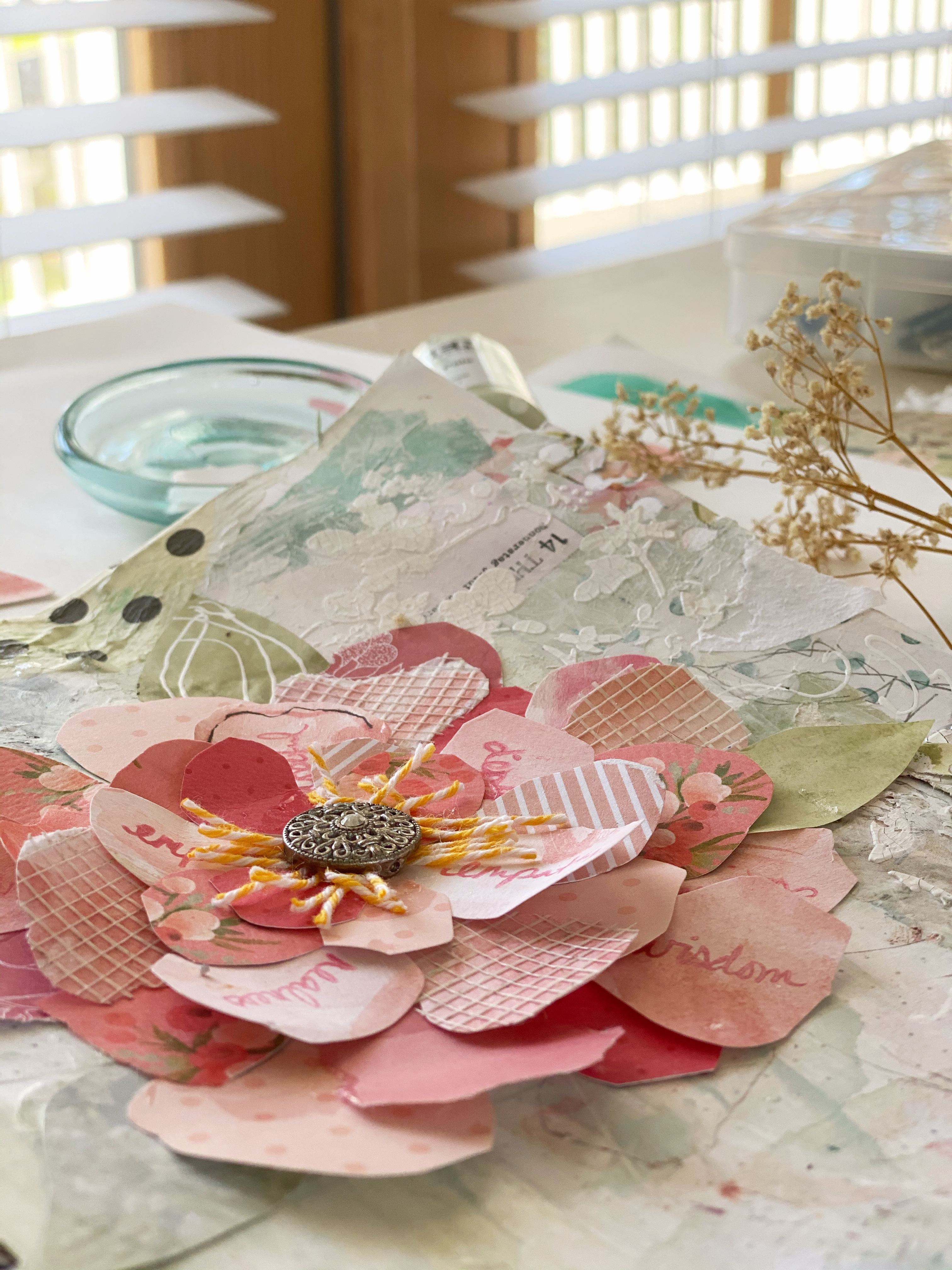 You want to feel nurtured and inspired.
Designed to feel kind, generous, and nurturing, this class will lift your spirits.
Imagine yourself being in my studio, sitting side-by-side with our coffee together chatting, sharing and making art.
Have you been wanting to find friends? I've carefully structured this class with special features so you can find each other and build relationships (optional, of course!)
Join now and let's journey together!
You're warmly invited into my art home.

If you love that online experience that
makes you feel like you're right there in the room,
where the artist is your friend,
this is the class for you.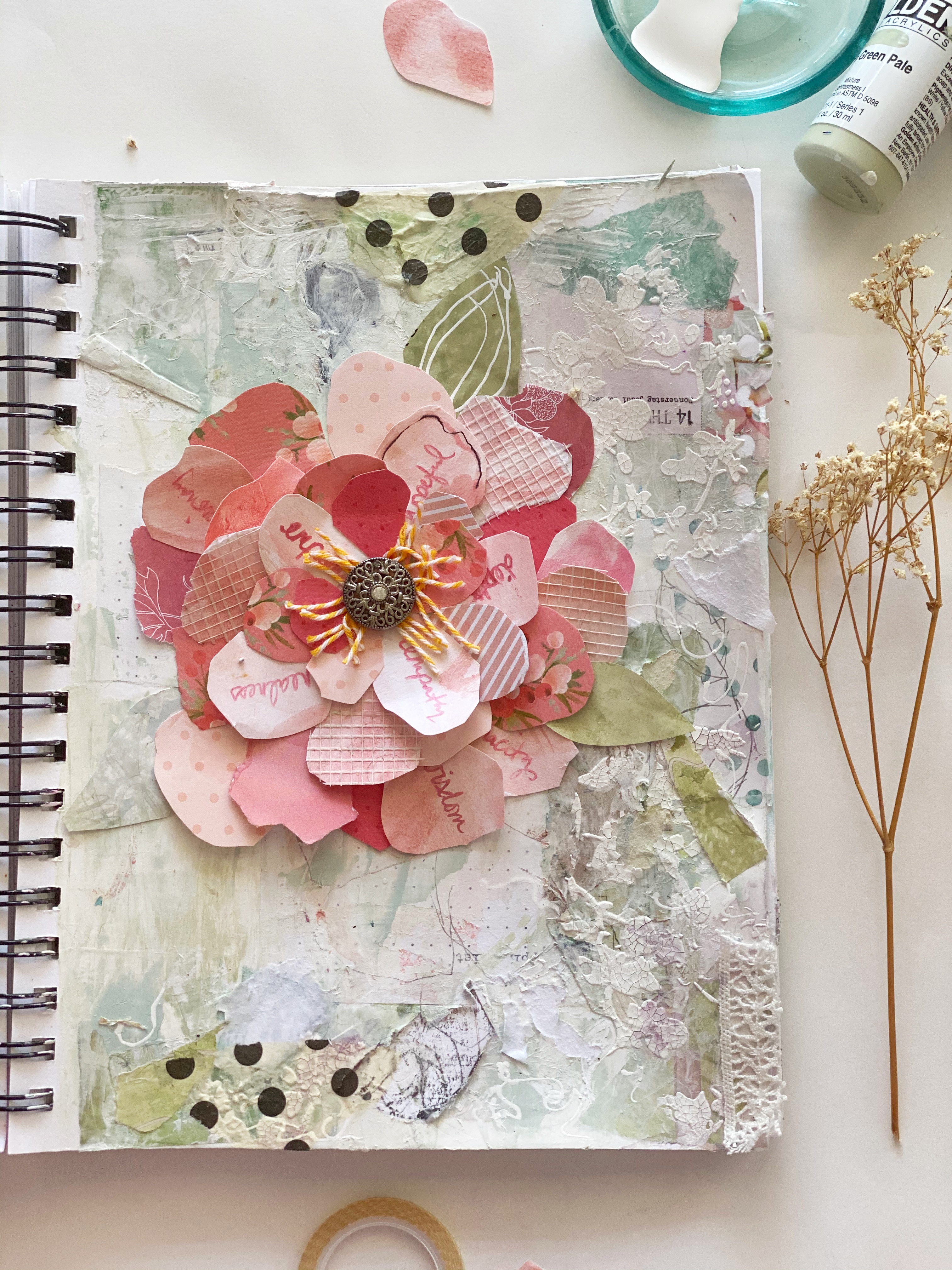 How to think outside the box when creating personalized art.
How to scrounge around and find items uniquely you to express yourself in your journal.
How to build lots of texture that adds to the story of your journal.
How to incorporate feelings, words, colors and thoughts to express your inner landscape on the page.
How to nurture yourself like a friend.
How to create 3-dimensional items in your art journal.
How to create your own collage papers.
How to use texture paste, paint, lace, string, beads and all sorts of things in new interesting ways.
Beautiful downloadable 14 page workbook to help you explore concepts, gain insight, and feel encouraged.
3+ hours of content
Supply List:
 I want to make this as accessible as possible.
Be sure to have the "must haves". Those are the bare essentials. "Nice to have" adds variety and dimension but can easily be substituted or left out. Many things like buttons you can find around your house. We'll be talking about thinking outside the box for materials so you'll have lots of ideas on substitutions or ways to make it your own.
These are all products I recommend and will be using for this project.
.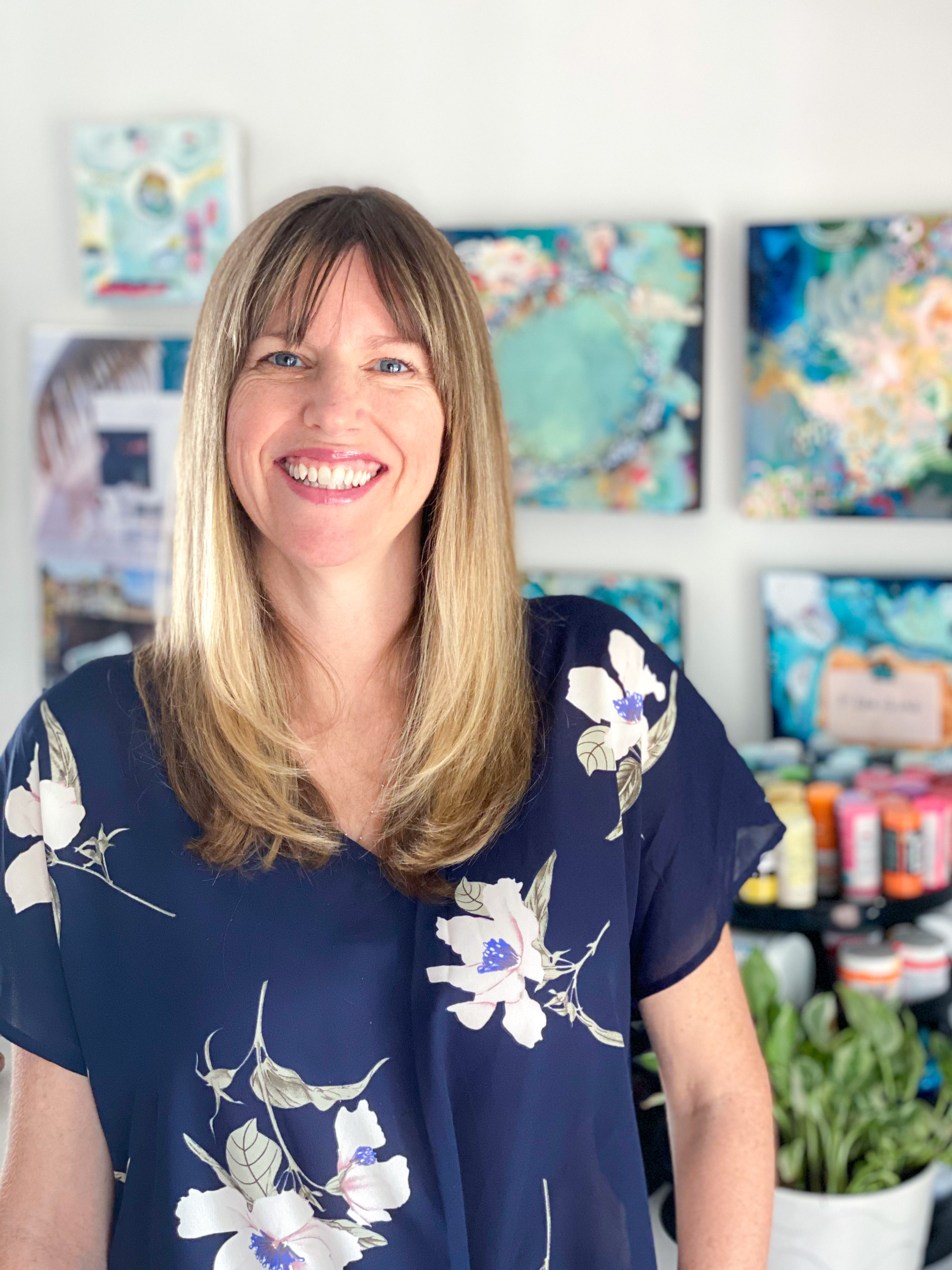 Hi, I'm Shay!
This took a whole lifetime to create.
Ever since I was five years old and my mom would fill in the book with the questions asking me what I wanted to be when I grew up, I would answer, teacher. It was always the same, year after year.
(And also Dallas Cowboy Cheerleader or Solid Gold Dancer. A girl can dream, right?) 
But it hasn't been easy.
Insecurity, wanting to stay hidden and small, the journey to discover my own sense of "enoughness" and find my own inner voice was a difficult one. Because it requires acute honesty, it can feel scary. But oh wow, the freedom on the other side of that. Once we can let down our guard to view ourselves as whole, lovable and perfectly imperfect, it's so relieving. So fulfilling. And life can feel full of inspiration.
An art practice is one of those things that leads to fulfilment, self-discovery, innovation and peace. I'm telling you, it's been one of the greatest joys in my life. Always accessible, fully known and yet remains wonderfully mysterious. I like to refer to it as one of my favorite tools in my toolbox of life. It'll do the same for you. 
Join me on this journey towards "Enough".
Frequently Asked Questions...
How long will I have access to the course?
You'll have access to the course for as long as it exists!
What is your refund policy?
Once a classroom has been accessed, no refunds will be issued. Please don't hesitate to contact me with any questions you may have to help you make your decision.
When does the course start?
The course has instant access to all the material. Take your time, work at your own pace.
Do I need high speed internet for the course?
Yes, You will need a good internet connection to view and/or download the video content for this course.
Is this for new or experienced artists?
Both! If you are new or experienced with art, you have something to gain. A fresh take on your art practice as well as soothing to your spirit, there'll be something here for you.
How do we stay in touch and find each other online?
I encourage you to find each other, support each other, and cheer each other on. Become friends!
We will use the hashtag #shaymichelleartconnections on Instagram and other social media platforms to do this.
I will be checking the chat area of the classroom to offer support.
Can I buy the class as a gift? Can I take it with someone?
Yes! This class is perfect to be shared. Purchase separately, then take it together and share what you've learned. Talk about it! Show each other your work! Use this class to nurture your relationship.
Or, give someone you love the gift of lifting their spirits through this class.
It's easy! Just email me ([email protected]). Give me your PayPal address and who you want to buy the class for (their email and name). I'll send you a bill and then add their info to the list. I'll let them know they've been gifted with the class so they can enjoy. Easy!